India, as a country is famous worldwide for its cuisine. But Indian cuisine within itself is multi-faceted; between the Southern tip of the subcontinent all the way to its questionable Northern borders, there must be at least 100 ways of Indian cuisine from all the four corners of the country. 
Over the course of my time in India, I have enjoyed traveling and discovering some of the special dishes native to certain states. However I have also realised that it is possible to sample a little bit of the amazing culinary variety of India in Pune itself. One of the many silver linings of staying with a host family is that they know all the best eat outs in Pune and love to show you how to eat like a local.
Here are some of my favourite eat-outs in Pune (amongst the many that my host family has introduced me to!)
1. Vaishali on FC Road
This Pune institution is famous not only for its amazing South Indian Dosas but also for its history and legacy. This restaurant, located in the heart of Pune has been present since the 1950s and has seen generations of young students graduate from Fergusson College across the road. Vaishali has a special place in the hearts of many Punekars as it is the place where they would come to eat and hang out as students at one of Pune's biggest schools, Fergusson College.
2. Darshan Restaurant on Prabhat Road
Another Pune institution, Darshan is down the road from the Global Citizen Year Pune office and offers a wide range of dishes, from "Mexican" to "Chinese" to "Italian", all with a distinctive Indian touch. However, what the restaurant does best is North Indian Punjabi food such as Chana Batura (a personal favourite).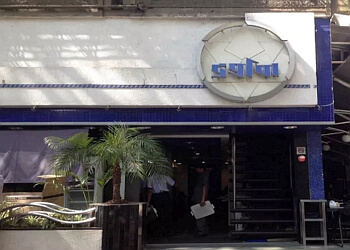 3. THE Place: Touché the Sizzler in Camp
India and specifically Maharashtra, has redefined the typical American Sizzler and made it into a decisively Indian dish. The best place to go to taste these is of course THE Place! It's another age old Pune restaurant with a bit of a medieval English feel located on a very busy street in the Camp area, where its very easy to miss unless you're looking for it.
4. VOHUMAN Café near Koregaon Park
Omelettes in India, take on a completely new flavour with added masala spices. Vohuman Café near Koregaon Park specialises in egg dishes and while everything around trendy Koregaon Park tends to be overpriced, this place remains one of the cheapest places to have tasty Egg Bhurji!
5. Shraddha Snacks in Aundh
Street food is infamous in India and you cannot leave Pune without tasting the ultimate Punekar street food, PANI PURI. Shraddha Snacks is in fact a road side stall located in the residential Aundh area, close to Westend mall. Shraddha offers authentic Indian Chaat without the fear of food poisoning or stomach problems!